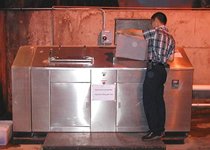 To tackle the solid waste problem, the HKSAR Government is planning to implement the waste charging scheme and has carried out a series of public engagement activities as well as educational campaigns. Although the charging mechanism and operational details are yet to be finalized, the "Polluters Pay Principle" will undoubtedly be applied as a waste management tool for the city.
Therefore, it will be good for building owners to consider the introduction of waste reduction measures after the building rehabilitation. This can be considered as part of the building management by allowing the provision of recycling facilities and paving the way for better waste separation at source and in turn reduce the related fees in the long run. Recycling bins to collect paper, plastic and metal are quite popular and they also come in different forms to suit site configuration.
In addition, where space is available, on-site composter can be installed to convert food waste into fertilizer to reduce the waste disposal. Various composting systems have been tested out in a number of public and private housing estates to promote food waste recycling.
Additional information: Hong Kong Waste Reduction Website